(show all) 1 2 3 4 5 6 7 8 9 10 11 12 13 14 15 16 17 (next) (last)
Journal
YouTube feedback
10/04/2023
Italian Renaissance Gallery, Ashmolean Museum, Oxford.
  "The Hunt in the Forest, by Paolo Uccello (1397–1475) is one of the best-loved and well-known paintings in the Museum's collection. This magical work depicts a hunting scene taking place at night and is crammed with figures of huntsmen – some on horseback, others on foot – accompanied by eager hunting dogs. The composition shows Uccello's fascination with perspective and geometry as everything converges on a central vanishing point."
The following is a music, song, and spoken word performance piece about The Hunt in the Forest
It's title: A Visitor to the Forest by Diana Moore, inspired by Paolo Uccello's The Hunt in the Forest
https://www.youtube.com/watch?v=B_qlnryGJiM
"Diana Moore's poem-performance based on Uccello's 'The Hunt in the Forest' is a lyrical tour de force — playful, haunting, and incantatory. Moore's lovely voice zooms our attention into the painting, and helps us to pay attention to details of line, color and texture. Even as she's focused on art history, Moore's lyrics and lines stand on their own as poetry, serving up delightful aural landscapes and clever word play. Moore's performance is catchy — it would delight a younger audience with fun audio and visuals while entertaining adults with the poet's keen observation. Uccello's painting truly comes alive under her gaze. I'll never see 'The Hunt in the Forest' in the same way again. This is truly the best way to appreciate art…"
"I spent a lovely half hour looking at your YouTube videos. Many congratulations on them and your very unique way of presenting the paintings, I loved it. Your lovely voice and intriguing interpretation is quite mesmerising and I laughed out loud at the Turkey and Lobster.".
BOOKS PREVIEWS AND REVIEWS
21/10/2021
Books previews and reviews start on page 2 of my journal, the most recent book being: Objects in the Ashmolean, An Art and Poetry Resource
A visit to the Faringdon Cobbler
15/07/2021
How often do we visit a cobbler? With millions of flip flops washing up on shores and many shoes discarded without repair, is it time to review materials -  both in making and mending footwear to retain traditional craftsmen?
Cobbler cobbler mend my shoe
Can I collect at half past two?
And what's that etched in your tattoo?
Chains, sprockets, piston parts
Scrambling bikes are in my heart
It's Motocross that most appeals
When I've finished mending heels
Cobbler cobbler my sandal is split
Can you fix it pretty quick?
I like the style, comfort and fit
But I don't want to trip
The problem is it's composite
Glue won't stick
I'd like to mend all kinds of shoes
Leather or rubber go well with glues
But what is on the shelves to choose?
I'm left to muse on throwaway shoes…
Back here my leather boots renewed
A job well done brings happy mood
Now I'm well-heeled
I've got new sole
Thank you cobbler
For your role
Published in The Advertiser Magazine August 2021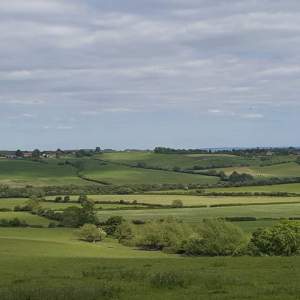 WHAT HAPPENED DURING LOCKDOWN?
17/06/2020
My un-lockdown project was cycling in the countryside.  Today I completed 1000 miles of local cycling, taking in pretty views of Oxfordshire and Buckinghamshire countryside.